The holidays are all about spending time with the ones you love. This year, make some fun memories with your family and friends by getting a little creative and crafty together. Here are some easy DIY holiday decorations that kids and adults of all ages can put together.
Thanksgiving décor for home: 
1. Glitter Wreath. Something so elegant doesn't have to cost a fortune. This easy DIY wreath will definitely add a little sparkle to your door.

2. Recycled Sweater Vase. Everyone has a couple of sweaters they want to throw out. Use the body section of your sweater to keep your vase and home feeling cozy throughout the winter.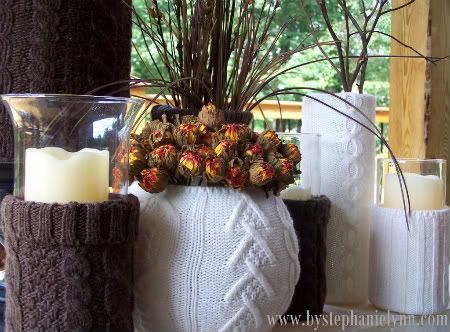 3. Pumpkin Centerpiece. Pumpkins have always been a staple of Thanksgiving. Create a centerpiece with your favorite seasonal flowers. Also, use your pumpkin seeds to create tasty desserts.

4. Thankful Tree. Have a statement piece that will grab the attention of your guests. Write down what you're grateful for and have your friends and family join in when they stop by.

5. Fall Leaves Vase. Recreate this look to give your home the warm feeling of fall. Another great alternative is filling up your vase with chestnuts.
Thanksgiving décor for kids: 
1. Felt Turkeys. Let your kids give you a helping hand with setting the table this year with this cute and easy turkey design.

2. Village People. Decorate around the house with little village people that use every day materials. It's also a great way to teach your kids about the importance of Thanksgiving.

3. Acorn Owls. Instead of turkeys flocking everywhere, change it up a bit with these cute acorn owls. It takes only three steps.

4. Pine Cone Turkeys. Take a stroll outside and gather up some pine cones for this turkey decoration idea. Even better, your home will be filled with the natural aroma of pine cones.

5. I'm Thankful For… Mugs. Let kids express what they're thankful for and keep it forever. These DIY mugs are perfect for the holiday season and any season after that.