DIY is all the rage, which puts a little bit more pressure on your Halloween party this year. Fortunately, it's possible to give your party the DIY touch no matter what your skill level is. Here are five crafty party ideas that require three supplies or less.
Make a pumpkin party cooler.
Supplies: Pumpkin, bowl, ice


Leave the ice chest in storage. Instead, cut the top off a large pumpkin and scrape out the pulp and seeds. Set a bowl inside (you may need to cut away some of the pumpkin flesh to make it work.) Then fill with ice and your beverages of choice.
Turn your table into a witch.
Supplies: Striped socks, old boots, black tablecloth


Ding-dong the witch is . . . under the table? Put striped socks and a pair of old boots on your table legs. Cover it in a black tablecloth. For a little extra pizzazz, use a witch hat as a centerpiece.
Spookify your fridge.
Supplies: Black felt, tape


Got a white fridge? Then you're in luck because this is the easiest DIY project there is. Cut out big black, felt circles and attach to your fridge to make a ghost face.
Invest in chalkboard paint.
Supplies: Pumpkins, chalkboard paint, chalk


Something about a chalkboard just screams Halloween. Take it a step further and spray small pumpkins with chalkboard paint. Write your guest's names on them to use as place settings or use them to label dishes on the buffet table.
Hand out frightening treat bags.
Supplies: Plastic gloves, candy, ribbon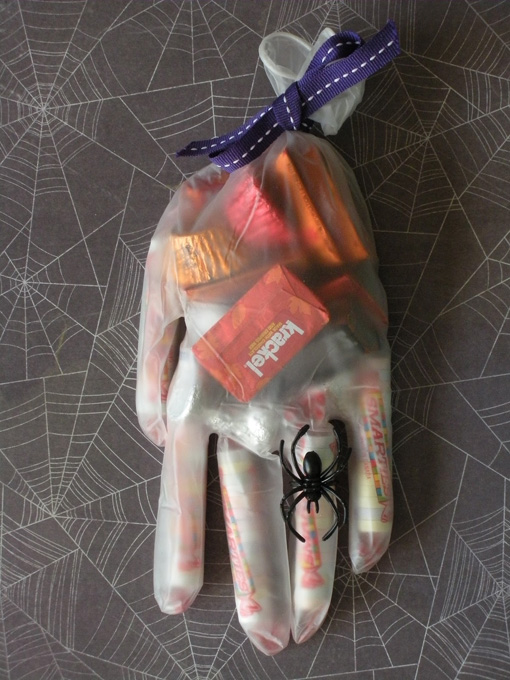 Send guest home with a spooky goodie bag. Fill a plastic glove with candy (Smartees are perfect for the fingers) and tie off with a ribbon.
Final tip: There are a million and one ways you can use pumpkins to decorate. In addition to a cooler and a place setting, they also make great vases.

For more great DIY Halloween ideas, check out our Pinterest board!