With the endless parties, meals, houseguests and other responsibilities the holiday season brings, it's easy to forget this is supposed to be an enjoyable time of year. Rather than submit to the insanity of the season, here is a guide to help you celebrate a hassle-free holiday.
ONE: Hassle-Free Holiday Shopping
When you think of the holidays, the first thing that may come to your mind is an ever-expanding shopping list. Here are some ways to make holiday shopping a snap.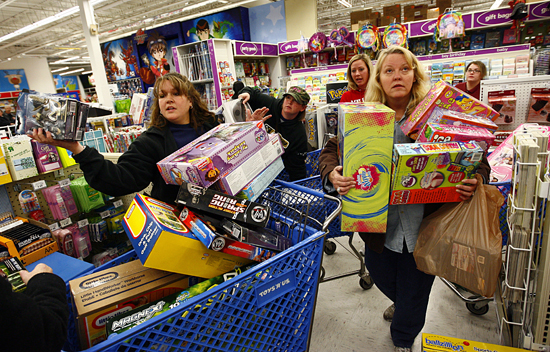 Source: onsugar.com 
1. Have a list. The worst thing you can do is walk into a store without a plan of attack. Always have a list—in fact, we recommend keeping a list year-round. If you make a habit of logging gift ideas all year long, you'll be fully prepared when it's commerce crunch time.
2. Scan the ads early. Shopping desperate is the best way to spend too much, so scan the ads early. It's much easier to shop with a purpose, plus it will help you save money and stay within budget.
3. Shop online. Retailers now offer similar deals online and offline.  One great benefit of buying online, besides beating the crowds, is you can use coupon codes to get an extra discount and free shipping. Most retailers also allow free in-store returns.

Source: troll.me
4. Get creative with gifting. Buying gifts for every person in your family can be costly, so get creative with the way the gifts are distributed—draw names, form a gifting tree or keep it simple and just stuff each others' stockings.
TWO: Hassle-Free Meals and Grocery Shopping 
Because the holidays bring on larger-than-normal meals, the preparation and clean up are inevitably larger than normal as well. To avoid spending the entire holiday break behind a stove, minimize your load with these food prep tips.


Source: someecards.com 
5. Make a list. Same rule as above, but be sure to make a menu and purchase all the ingredients for everything at once. Nothing is a bigger hassle than running to the store a million times. Use the free Grocery IQ app to create your list, find associated coupons and share your list with others.

Source: closeddoorsopenwindows.com
6. Shop during "off" times. You can do your grocery shopping right after work along with everyone else, or you can go at a less competitive hour. Shop on weekdays or early on weekend mornings so you won't have to fight for your food.
7. Delegate. Now that the kids are on break and the relatives are in town, put them to work. Meals do not have to be a one-man-show. If you've got idle hands at your disposal, use them.

Source: dailymail.co.uk
8. Make freezer meals. Instead of cooking each meal as a one-off creation, consider teaming up with some friends, buying in bulk and making multiple meals all at once. Simply pop them in the freezer and use them as a lifeline when the holidays are at their craziest. Be sure to visit KitchMe for great crock-pot and make-ahead recipes.

Source: blogspot.com
9. Eat leftovers. After you've spent time preparing an over-sized meal, don't be afraid to let it feed you for a few days. Each meal doesn't have to be fresh, so serve it up until it's gone.
10. Embrace delivery. Many grocery stores take pre-orders to cook your entire holiday meal for you. While you could spend several hours prepping for the big holiday feast, you could also just spend a few minutes ordering it. Voila, dinner is served!
Source: wholefoodsmarket.com 
THREE: Hassle-Free Decorations
When stress is at its highest, it doesn't matter what you look like at the time, only that you survive. That said, in the midst of the functional demands of the holiday, the fashion of your home is something you're likely thinking about. Here are some ultra simple ways to keeping your home fashionably festive for the holidays.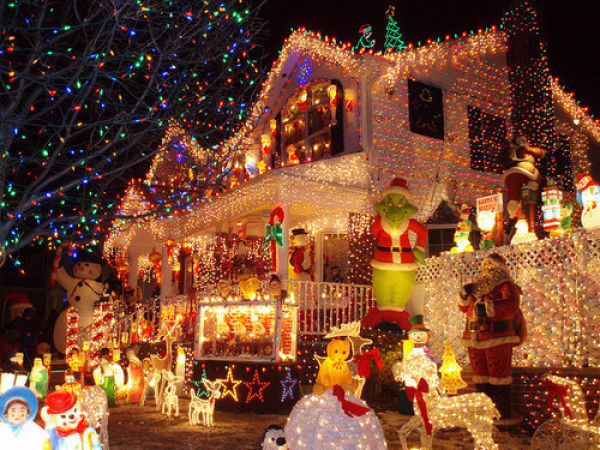 Source: izimile.com 
11. Use the dollar store. Unless you're planning on submitting photos to a home and garden magazine, the dollar store is your best friend when it comes to cheap but effective holiday décor and gift wrap.
12. Re-purpose. Your home is already full of potential holiday decorations, so just use your imagination. For example, add holiday garlands and decorations to make your mirror a festive piece of holiday decor.
Source: Pinterest
13. Holiday cards. Strategically and liberally place holiday cards around the home. Believe us, they make good decorations.

Source: groovinheads.com
14. Shop for next year. As you prepare your home for this year's holidays, make a list of the decorations you'd like to have for next year. You'll be able to find these for up to 90% off the day after Christmas.

Source: familyfrugalfun.com
FOUR: Hassle-Free Party Ideas
If you're the party-hosting type, it's in your best interest to keep it lean. In the spirit of ease, here are some simple party ideas that are low-impact for the host but high entertainment for the guests.

15. White Elephant gift exchange. Have every guest bring an anonymously wrapped gag gift (set a budget of $10 or less). After drawing numbers, go around in order—guests can either unwrap a new present or steal a formerly unwrapped item. Your guests will have a blast when warring over gifts, and it takes zero effort on your part.
16. Ugly holiday sweater party. Rather than stress over the theme and decorations of a party, let your holiday apparel take care of that for you. Ask your guests to show up in the most hideous holiday sweater they can find, and watch them chuckle as the parade of fools comes rolling in.

Source: ashvegas.com 
17. The Anonymous Appetizer Competition. Ask each guest to bring an anonymously plated, homemade appetizer. After the guests each enjoy their fill, have them vote on their favorite dish, and then award a prize to the dish with the most votes. This contest will both feed and entertain with absolutely no hassle on your part.

Source: delectables.com
18. Remember quality over quantity. You don't have to invite everyone in your life to the party. Keep it cozy by inviting only those closest to you. This will help minimize your overall duties as the host and allow for more quality time with the ones you love. 
FIVE: Hassle-Free Family Time
All too often the commotion and chaos of the holidays distracts from their true purpose: being with your family. As hard as it might be to unite the family at such a crazy time, here are some activities that will ensure some quality time.
19. Create and focus on traditions. Don't reinvent the wheel each year. By establishing family traditions now, you'll cut down on future holiday guesswork and be able to maximize your moments with family.

Source: bloglet.com
20. Arts & Crafts = Decorations. An arts and crafts session with your kids will allow you to enjoy the benefit of both quality family time and some homemade holiday decorations. They may not be the most fancy creations but they'll be made with love. 
Source: blogspot.com
21. Cooooookies: Nothing summarizes the holidays better than the sweet treats. Gather the family and bake some cookies for you and the neighbors. It's a win-win.
Source: blogspot.com
22. Service: Presents and parties can easily distract from the spirit of giving. Find opportunities for you and your kids to serve. Whether you hang some lights for the widow next door or you have the kids donate toys they've outgrown, these acts of kindness will teach the kids to be charitable.

Source: handsonblog.org 
SIX: Hassle-Free Houseguests
If you're not traveling for the holidays, you may be entertaining houseguests. Here are some ideas to help you sail gracefully through the holidays with a few extra loved ones under your roof.
23. Stay on routine. Even though your kids are on break, you have a couple days off from work, and you have visitors flying in, stay on a routine. The closer you can stick to your typical routine and carry on with business as usual, the more levelheaded you'll remain.
24. Keep them entertained. Create a list of things to do in the area including directions. Running low on ideas? Ask friends on Facebook or review sites like Yelp and TripAdvisor to curate the best.

Source: punchbowl.com
25. Coordinate transportation: Use free planning tools like Google Calendar to track your guests' arrivals and departures. Share the calendar with them so they can update with new information. If you can't pick them up, forgo expensive cab fare and suggest car share services like Uber.
26. Be prepared with towels and bedding: Be sure you're stocked up with a clean supply, and place extra hooks in the bathroom for your guests' towels so they don't use a new one each day. If your linen closet could use replenishing, check online deals and coupon codes. When else do you ever buy new towels?
Source: Pinterest
CONCLUSION:
The holidays are supposed to be merry and bright! Despite the distractions, obligations and moments of chaos, we're confident you'll be able to keep your cool and enjoy the hassle-free holiday that you so deserve.

Source: blogspot.com